About Us
India Garden is a Indian takeaway in St Albans. Why don't you try our Balti or Nashilee?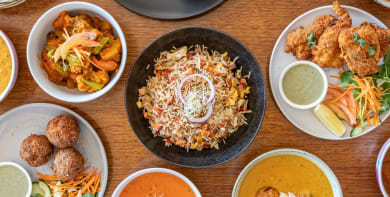 Reviews
194 reviews
Aleksandra
"I don't mind late and foods were delicious"
06/07/2020
Graham
"Fantastic curry will order again"
20/06/2020
Kate
"It was hot and delicious as always thanks"
13/06/2020
John
"Best Indian I've had very nicely spiced"
09/06/2020
Menu
Onion Bhaji
Lightly spiced beef fried onion patties
£2.75
Chicken Pakora
Traditional pakora stuffed with chicken
£3.50
Kebab Starter Seekh
Spiced mince meat (Reshmi kebab wrapped in egg)
£3.75
Kebab Starter Reshmi
Spiced mince meat (Reshmi kebab wrapped in egg)
£3.75
Kebab Starter Shami
Spiced mince meat (Reshmi kebab wrapped in egg)
£3.75
Tikka Starter Chicken
Marinated in aromatic tandoori spices, skewered & BBQ in clay oven
£3.75
Tikka Starter Lamb
Marinated in aromatic tandoori spices, skewered & BBQ in clay oven
£3.75
Tandoori Chicken Starter
Marinated in aromatic tandoori spices, skewered & BBQ in clay oven
On the bone
£3.75
Prawn Puri
Fried prawns in tasty sauce served with puri (Thin fried bread)
£4.50
Shashlik Starter Chicken
With BBQ onions, peppers, tomatoes
£4.95
Shashlik Starter Lamb
With BBQ onions, peppers, tomatoes
£4.95
Tandoori Lamb Chops Starter
Marinated in special tandoori spices & BBQ in clay oven
£4.75
King Prawn Butterfly
Marinated in a delicate spice coated with breadcrumbs
£5.25
Tandoori Mixed Starter
Chicken, lamb, seekh kebab
£5.25
King Prawn Puri
Fried king prawns in a tasty sauce
Served with puri (Thin fried bread)
£5.25
Tandoori King Prawn Starter
Mild spiced king prawn cooked in 'Tandoori' clay oven
£5.25
Fish Tikka Starter
Fresh water, boneless & skinless
£5.25
Chilli Paneer Starter
Paneer spice with fresh chilli & Thai chilli sauce
£4.50
Tikka Main Chicken
Marinated in aromatic tandoori sauce, spiced, skewered & BBQ sauce in the clay oven
£6.75
Tikka Main Lamb
Marinated in aromatic tandoori sauce, spiced, skewered & BBQ sauce in the clay oven
£6.75
Tandoori Chicken (Half)
Succulent chicken on the bone, marinated in aromatic tandoori sauce, spiced, skewered & BBQ in the clay oven
£6.75
Shashlik Main Chicken
Large pieces of chicken OR lamb with onions, peppers & tomatoes marinated in mildly spiced sauce
£7.95
Shashlik Main Lamb
Large pieces of chicken OR lamb with onions, peppers & tomatoes marinated in mildly spiced sauce
£7.95
Tandoori Lamb Chops Main
Marinated in special tandoori sauce, spiced & BBQ in the clay oven
£7.95
Fish Tikka Main
Fresh water, boneless & skinless
£8.95
Tandoori King Prawn Main
Medium spiced king prawn cooked in 'Tandoori' clay oven
£10.95
Tandoori Mixed Grill Main
A mixture of tandoori chicken, chicken tikka, lamb tikka & seekh kebab
Served with naan bread
£10.50
Paneer Tikka
Lightly spiced with herbs & spices, served green salad
£6.95
Spicy Chicken Wings (Small)
Chicken wings marinated in peri peri spices, herbs & grilled in a clay oven 
Contain gluten
£5.95
Shahi Noor Tandoori Special Mix Platter
Lamb chop, chicken tikka, seekh kebab, chicken wing & salad
£12.95
Paneer Shashlik Main
Paneer marinated in yoghurt & spices, grilled in tandoori oven with vegetables
£7.95
Set Meal For 1
Starters:
1 Poppadom
1 Onion bhaji
Main course:
1 Chicken tikka masala
1 Vegetable curry
1 Pilau rice
1 Naan
£14.95
Set Meal For 2
Starters:
2 Poppadoms
1 Onion bhaji
1 Chicken tikka
Main course:
1 Chicken tikka masala
1 Chicken karahi
Side:
1 Bombay aloo
1 Vegetable curry
2 Pilau rice
1 Naan
£26.95
Mixed Vegetable Curry Side
£3.40
Mixed Vegetable Curry Main
£4.95
Mixed Vegetable Bhaji Side
£3.40
Mixed Vegetable Bhaji Main
£4.95
Brinjal Bhaji Side
Aubergine
£3.40
Brinjal Bhaji Main
Aubergine
£4.95
Aloo Gobi Side
Potato & cauliflower
£3.40
Aloo Gobi Main
Potato & cauliflower
£4.95
Chana Masala Side
Chickpeas
£3.40
Chana Masala Main
Chickpeas
£4.95
Saag Aloo Side
Spinach & potatoes
£3.40
Saag Aloo Main
Spinach & potatoes
£4.95
Bombay Aloo Side
Spicy potatoes
£3.40
Bombay Aloo Main
Spicy potatoes
£4.95
Tarka Daal Side
Lentil garnished with garlic
£3.40
Tarka Daal Main
Lentil garnished with garlic
£4.95
Saag Paneer (Hot) Side
Spinach & cheese
£3.95
Saag Paneer (Hot) Main
Spinach & cheese
£5.95
Saag Paneer (Mild) Side
Spinach & cheese
£3.95
Saag Paneer (Mild) Main
Spinach & cheese
£5.95
Muttar Paneer Side
Peas & cheese
£3.95
Muttar Paneer Main
Peas & cheese
£5.95
Sylheti Saagwala
Spinach with green chillies & garlic & special herbs from Bangladesh
£3.40
Special Biryani
A mixture of chicken, lamb & prawn
£9.50
Garlic Chilli Balti Chicken
£7.95
Vegetarian Set Meal For 1
Starters:
1 Poppadom
1 Onion bhaji
Main course:
1 Vegetable balti
Side:
1 Mushroom bhaji
1 Pilau rice
1 Naan
£13.95
Vegetarian Set Meal For 2
Starters:
2 Poppadom
1 Onion bhaji
1 Vegetable samosa
Main course:
1 Vegetable korma
1 Vegetable bhuna
Side:
1 Bombay aloo
1 Mushroom bhaji
1 Pilau rice
1 Naan
£24.95
Garlic Tikka Bhuna Chicken
£7.50
Keema Rice
Mince meat & peas
Large 
£3.10
Oriental Rice
Peas & mushroom
Large
£3.10
Hyderabadi Dalcha
Pepper, chana daal, tamarind sauce, ginger, garlic, onion, cumin powder, curry leafs, olive oil, curry powder, chilli & pumpkin
£7.95
Jafrani Chicken
Marinated in a wonderfully aromatic tandoori spices barbequed chicken OR lamb cooked in a balti paste with roast tomatoes pepper & onion
Medium
£7.25
Jafrani Lamb
Marinated in a wonderfully aromatic tandoori spices barbequed chicken OR lamb cooked in a balti paste with roast tomatoes pepper & onion
Medium
£7.25
Roshuni Chicken
Marinated in tandoori medium spices, barbequed chicken OR lamb cooked with lots of garlic & coriander
£7.25
Roshuni Lamb
Marinated in tandoori medium spices, barbequed chicken OR lamb cooked with lots of garlic & coriander
£7.25
Garlic Chilli Masala Chicken
Marinated chicken OR lamb cooked with ginger, garlic, green peppers, green chillies & tomatoes
Hot & spicy
£7.50
Garlic Chilli Masala Lamb
Marinated chicken OR lamb cooked with ginger, garlic, green peppers, green chillies & tomatoes
Hot & spicy
£7.50
Garlic Chilli Vegetable Chicken
Marinated chicken OR lamb combined with vegetable cooked with garlic, green pepper, green chillies & tomatoes
Hot & spicy
£7.95
Garlic Chilli Vegetable Lamb
Marinated chicken OR lamb combined with vegetable cooked with garlic, green pepper, green chillies & tomatoes
Hot & spicy
£7.95
Achari Chicken
Marinated chicken OR lamb cooked in chefs selected herbs roast onions, green peppers, coriander with mixture of Indian exotic pickles
Hot & spicy
£7.50
Achari Lamb
Marinated chicken OR lamb cooked in chefs selected herbs roast onions, green peppers, coriander with mixture of Indian exotic pickles
Hot & spicy
£7.50
Murgh Bahar
Barbequed tandoori chicken & chicken tikka cooked in chefs selected spices with green chillies, tomatoes & fresh herbs
Hot
£7.95
Trivoji
Chicken tikka, lamb tikka, seekh kebab cooked in a medium thick sauce with onion, tomato & coriander
Medium
£8.95
Tikka Delight Chicken
Chicken or lamb tikka cooked in freshly made mild sauce mixture of fresh fruits
£8.25
Tikka Delight Lamb
Chicken or lamb tikka cooked in freshly made mild sauce mixture of fresh fruits
£8.25
King Prawn Delight
Marinated in tandoori spices, BBQ clay oven then cooked in chef's special mild spices with mix fruits
Mild
£11.95
Koki Naga Chicken
Chicken or lamb prepared with ginger, garlic, black pepepr, coriander, spring onion, fresh green chilli served in a rich thick hot spicy sauce, with small red chilli old phall style
Extremely hot
£9.95
Nashilee Chicken
Tender fillets of lamb or chicken in a rich chilli (bullet chillies) & ginger sauce
£10.95
Nashilee Lamb
Tender fillets of lamb or chicken in a rich chilli (bullet chillies) & ginger sauce
£10.95
Peshwari Chicken
Tender pieces of chicken or lamb medallions cooked in yoghurt & garlic sauce
£10.95
Peshwari Lamb
Tender pieces of chicken or lamb medallions cooked in yoghurt & garlic sauce
£10.95
Gosht Kata Lazis
Tender pieces of lamb with ginger & garlic paired with thic sauce with chickpeas & cheese on top
£10.95
Mamu Bagna (Medium) Chicken
Chicken or lamb with spices & dry chillies sprinkled with potatoes
£7.95
Mamu Bagna (Medium) Lamb
Chicken or lamb with spices & dry chillies sprinkled with potatoes
£7.95
Mamu Bagna (Hot) Chicken
Chicken or lamb with spices & dry chillies sprinkled with potatoes
£7.95
Mamu Bagna (Hot) Lamb
Chicken or lamb with spices & dry chillies sprinkled with potatoes
£7.95
Weeping Tiger
Succulent eholr tiger king prawn cooked in a pan with a variety of spices realising aromatic flavour
£11.95
Koki Naga Lamb
Chicken or lamb prepared with ginger, garlic, black pepepr, coriander, spring onion, fresh green chilli served in a rich thick hot spicy sauce, with small red chilli old phall style
Extremely hot
£9.95
Tikka Masala Chicken
Cooked in a specially blended sauce with a delicate mixture of spices & herbs
£7.25
Tikka Masala Lamb
Cooked in a specially blended sauce with a delicate mixture of spices & herbs
£7.25
Pasanda Chicken
Delicate pieces of chicken OR lamb cooked in a mild sauce with cream & ground almonds
Mild
£7.25
Pasanda Lamb
Delicate pieces of chicken OR lamb cooked in a mild sauce with cream & ground almonds
Mild
£7.25
Butter Chicken
Marinated chicken OR lamb (Mildly spiced) cooked in a butter base sauce with chef's special spices & herbs
Mild
£7.25
Butter Lamb
Marinated chicken OR lamb (Mildly spiced) cooked in a butter base sauce with chef's special spices & herbs
Mild
£7.25
Tandoori Chicken Masala
Tandoori chicken (Off the bones) cooked with ground almond, coconut & fresh cream selected spices & herbs
£7.50
Mumbai Chicken
Chicken OR lamb cooked in a fairly hot curry sauce with a combination of potatoes & boiled egg
£7.25
Mumbai Lamb
Chicken OR lamb cooked in a fairly hot curry sauce with a combination of potatoes & boiled egg
£7.25
Naga Chicken
Very hot & highly flavoured dish, marinated chicken OR lamb cooked with fresh spice, coriander & naga chillies from the far East
£7.25
Naga Lamb
Very hot & highly flavoured dish, marinated chicken OR lamb cooked with fresh spice, coriander & naga chillies from the far East
£7.25
Shatkora Chicken
A delicious medium dish cooked with tropical citrus from the far East & a mixture of fresh herbs and spices highly flavoured
£7.25
Shatkora Lamb
A delicious medium dish cooked with tropical citrus from the far East & a mixture of fresh herbs and spices highly flavoured
£7.25
Chef's Special Curry
Chicken, meat & prawn cooked in chef selected spices & herbs
Medium
£7.50
Special Keema Bhuna
Minced meat cooked in a medium hot thick sauce with egg & tomatoes
£7.50
Shashlik Masala Chicken
Marinated chicken OR lamb grilled in a tandoori with green pepper, tomatoes & onions cooked with special medium hot spices in a rich thick sauce
£7.50
Shashlik Masala Lamb
Marinated chicken OR lamb grilled in a tandoori with green pepper, tomatoes & onions cooked with special medium hot spices in a rich thick sauce
£7.50
Nawabi Chicken
Marinated chicken OR lamb in freshly prepared mild creamy sauce, decorated with lettuce & topped with cheese
Mild
£7.50
Nawabi Lamb
Marinated chicken OR lamb in freshly prepared mild creamy sauce, decorated with lettuce & topped with cheese
Mild
£7.50
Tikka Pepper Jalfrezi (Medium) Chicken
Cooked with onion, capsicum, black pepper, tomato, coriander, fresh herbs & spices
£7.50
Tikka Pepper Jalfrezi (Medium) Lamb
Cooked with onion, capsicum, black pepper, tomato, coriander, fresh herbs & spices
£7.50
Tikka Pepper Jalfrezi (Hot) Chicken
Cooked with onion, capsicum, black pepper, tomato, coriander, fresh herbs & spices
£7.50
Tikka Pepper Jalfrezi (Hot) Lamb
Cooked with onion, capsicum, black pepper, tomato, coriander, fresh herbs & spices
£7.50
Tikka Mouktaj Chicken
Cooked in fresh sliced ginger, garlic, tomato, blended in chef special spice & herbs
Medium
£7.95
Tikka Mouktaj Lamb
Cooked in fresh sliced ginger, garlic, tomato, blended in chef special spice & herbs
Medium
£7.95
Piri Piri Chicken
Cooked in sizzling onion, garlic, green pepper, coriander & a touch of chef's piri piri firing sauce
Hot
£7.95
Piri Piri Lamb
Cooked in sizzling onion, garlic, green pepper, coriander & a touch of chef's piri piri firing sauce
Hot
£7.95
Murgh Special Masala
Tandoori chicken (On the bone) cooked with dry herbs & minced meat & eggs
£8.25
Chuckmai Murgh (Medium)
Barbeque chicken cooked in onion, garlic, coriander & a drop of honey blended in chef's superb spices & herbs
£8.25
Chuckmai Murgh (Sweet)
Barbeque chicken cooked in onion, garlic, coriander & a drop of honey blended in chef's superb spices & herbs
£8.25
Salmon Special Bhuna Jalfrezi (Medium)
Superbly aromatic hot dish cooked in a thick sauce, green chilli, coriander, garlic, pepper & tomato
£8.95
Salmon Special Bhuna Jalfrezi (Hot)
Superbly aromatic hot dish cooked in a thick sauce, green chilli, coriander, garlic, pepper & tomato
£8.95
India Garden Special
Blended in India Garden special spices & herbs, cooked in chef special homemade sauce (chicken tikka, lamb tikka, mince meat)
Medium
£10.25
Tandoori King Prawn Masala
Grilled king prawns cooked with ground almonds, coconut, fresh cream & selected spice & herbs
£11.95
Chilli Paneer Main
Paneer spice with fresh chilli & Thai chilli sauce
£7.50
Spicy Chicken Wings (Large)
Cooked in medium sauce with spring onions, pepper & tomato
£6.95
Murgh Murcia (Medium)
Cooked in chilli sauce with tomato, onions & cucumber
£7.95
Murgh Murcia (Hot)
Cooked in chilli sauce with tomato, onions & cucumber
£7.95
Chicken Banglore (Medium)
Spices dhaniya, jeera, capsicum, chillies mixed with tomato puree & chicken, Thai chilli sauce
£7.95
Chicken Banglore (Hot)
Spices dhaniya, jeera, capsicum, chillies mixed with tomato puree & chicken, Thai chilli sauce
£7.95
Curry Chicken
Medium with spice & sauce
£5.95
Curry Lamb
Medium with spice & sauce
£5.95
Curry Prawn
Medium with spice & sauce
£6.50
Curry King Prawn
Medium with spice & sauce
£8.95
Curry Vegetable
Medium with spice & sauce
£4.95
Madras Chicken
Cooked in fairly hot & spicy sauce
£5.95
Madras Lamb
Cooked in fairly hot & spicy sauce
£5.95
Madras Prawn
Cooked in fairly hot & spicy sauce
£6.50
Madras King Prawn
Cooked in fairly hot & spicy sauce
£8.95
Madras Vegetable
Cooked in fairly hot & spicy sauce
£4.95
Vindaloo Chicken
Very hot curry cooked in hot & spicy sauce
£5.95
Vindaloo Lamb
Very hot curry cooked in hot & spicy sauce
£5.95
Vindaloo Prawn
Very hot curry cooked in hot & spicy sauce
£6.50
Vindaloo King Prawn
Very hot curry cooked in hot & spicy sauce
£8.95
Vindaloo Vegetable
Very hot curry cooked in hot & spicy sauce
£4.95
Korma Chicken
Cooked in mild spice, tomato, onion & fresh coriander
£5.95
Korma Lamb
Cooked in mild spice, tomato, onion & fresh coriander
£5.95
Korma Prawn
Cooked in mild spice, tomato, onion & fresh coriander
£6.95
Korma King Prawn
Cooked in mild spice, tomato, onion & fresh coriander
£8.95
Korma Vegetable
Cooked in mild spice, tomato, onion & fresh coriander
£5.50
Bhuna Chicken
Medium hot, well spiced with thick gravy
£5.95
Bhuna Lamb
Medium hot, well spiced with thick gravy
£5.95
Bhuna Prawn
Medium hot, well spiced with thick gravy
£6.95
Bhuna King Prawn
Medium hot, well spiced with thick gravy
£8.95
Bhuna Vegetable
Medium hot, well spiced with thick gravy
£5.50
Pathia Chicken
Sweet & sour, hot & spicy thick sauce
£5.95
Pathia Lamb
Sweet & sour, hot & spicy thick sauce
£5.95
Pathia Prawn
Sweet & sour, hot & spicy thick sauce
£6.95
Pathia King Prawn
Sweet & sour, hot & spicy thick sauce
£8.95
Pathia Vegetable
Sweet & sour, hot & spicy thick sauce
£5.50
Rogan Chicken
Medium dish cooked with glazed tomato, onion & fresh herbs
£5.95
Rogan Lamb
Medium dish cooked with glazed tomato, onion & fresh herbs
£5.95
Rogan Prawn
Medium dish cooked with glazed tomato, onion & fresh herbs
£6.95
Rogan King Prawn
Medium dish cooked with glazed tomato, onion & fresh herbs
£9.50
Rogan Vegetable
Medium dish cooked with glazed tomato, onion & fresh herbs
£5.50
Saag Chicken
Medium dish cooked with spinach
£6.25
Saag Lamb
Medium dish cooked with spinach
£6.25
Saag Prawn
Medium dish cooked with spinach
£6.95
Saag King Prawn
Medium dish cooked with spinach
£9.50
Dopiaza Chicken
Medium, cooked with roast onion & green peppers
£5.95
Dopiaza Lamb
Medium, cooked with roast onion & green peppers
£5.95
Dopiaza Prawn
Medium, cooked with roast onion & green peppers
£6.95
Dopiaza King Prawn
Medium, cooked with roast onion & green peppers
£9.50
Dopiaza Vegetable
Medium, cooked with roast onion & green peppers
£5.50
Kashmir Chicken
A mild spice curry cooked with lychees
£6.25
Kashmir Lamb
A mild spice curry cooked with lychees
£6.25
Kashmir Prawn
A mild spice curry cooked with lychees
£6.95
Kashmir King Prawn
A mild spice curry cooked with lychees
£9.50
Kashmir Vegetable
A mild spice curry cooked with lychees
£5.50
Malaya Chicken
A mild spicy curry cooked with pineapple
£6.25
Malaya Lamb
A mild spicy curry cooked with pineapple
£6.25
Malaya Prawn
A mild spicy curry cooked with pineapple
£6.95
Malaya King Prawn
A mild spicy curry cooked with pineapple
£9.50
Malaya Vegetable
A mild spicy curry cooked with pineapple
£5.50
Sabzi Chicken
A medium hot dish cooked with mixed vegetables
£6.95
Sabzi Lamb
A medium hot dish cooked with mixed vegetables
£6.95
Sabzi Prawn
A medium hot dish cooked with mixed vegetables
£6.95
Sabzi King Prawn
A medium hot dish cooked with mixed vegetables
£9.50
Karahi Chicken
Marinated in special spices & cooked in thick gravy sauce
£6.95
Karahi Lamb
Marinated in special spices & cooked in thick gravy sauce
£6.95
Karahi Prawn
Marinated in special spices & cooked in thick gravy sauce
£7.25
Karahi King Prawn
Marinated in special spices & cooked in thick gravy sauce
£9.50
Karahi Vegetable
Marinated in special spices & cooked in thick gravy sauce
£5.95
Jalfrezi Chicken
Superbly aromatic hot dish cooked with green chillies, onion & capsicum
£6.95
Jalfrezi Lamb
Superbly aromatic hot dish cooked with green chillies, onion & capsicum
£6.95
Jalfrezi Prawn
Superbly aromatic hot dish cooked with green chillies, onion & capsicum
£7.25
Jalfrezi King Prawn
Superbly aromatic hot dish cooked with green chillies, onion & capsicum
£9.50
Jalfrezi Vegetable
Superbly aromatic hot dish cooked with green chillies, onion & capsicum
£5.95
Dansak Chicken
Sweet, sour, hot & spicy dish cooked with lentils
£6.95
Dansak Lamb
Sweet, sour, hot & spicy dish cooked with lentils
£6.95
Dansak Prawn
Sweet, sour, hot & spicy dish cooked with lentils
£7.25
Dansak King Prawn
Sweet, sour, hot & spicy dish cooked with lentils
£9.50
Dansak Vegetable
Sweet, sour, hot & spicy dish cooked with lentils
£5.95
Saag Vegetable
Medium dish cooked with spinach
£5.50
Sabzi Vegetable
A medium hot dish cooked with mixed vegetables
£5.95
Contact Us
Find Us
24 Catherine Street, St Albans, AL35BX
We deliver to
AL1, AL2, AL3, AL4